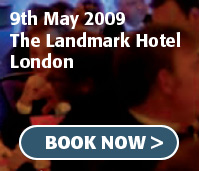 The Hire Awards of Excellence 2009 will take place at the breathtaking Landmark London on evening of Saturday, 9th May.
Independently judged, the Hire Awards of Excellence are designed to genuinely recognise excellence throughout the Hire Industry. Acknowledging the successes of the hirers and suppliers as well as those successful individuals who truly set the standard, these Awards are the industry's most sought after accolade.
Hire Association Europe has a long history of organising events and the annual black tie event has become the most glittering of all. In 2008 our guests enjoyed a champagne reception, sumptous dinner and and exciting awards presentation presented by BBC sports personalities, Ray Stubbs and Mark Lawrenson and the post awards drinks gave rise to a relaxed atmosphere with numerous networking opportunities.
Find out who our Hire Awards of Excellence winners were by clicking here.
This year looks set to be even more of a success, we hope you will not only enter but join us for the celebration of excellence.

Graham Arundell, Managing Director
"Thank you both for an excellent evening on Saturday. From our own perspective and what everyone else was saying, the whole night was a great success and we were privilieged to be there."
Pete Lucas, imaginit (a member of the 2008 Judging Panel)